"And the work which has become a genre unto itself shall be called: Cowboy Bebop"
―Cowboy Bebop
Cowboy Bebop



カウボーイビバップ (Kaubōi Bibappu)

Genre:
Space Western, Comedy, Crime fiction

TV Anime

Writer
Keiko Nobumoto

Studio
Sunrise

Licensors
Bandai Visual (Japan), Bandai Entertainment (North America)

Original run (Japan)
October 24, 1998 - April 24, 1999

Episodes
26
Cowboy Bebop is a Japanese animated television series that centers around a group of bounty hunters in a futuristic, space-western setting. The year is 2071 and the place is our Solar System, where various planets and moons have been terraformed for human settlement, travel between planets is simplified through Astral Gates, and Earth is seen as a largely uninhabitable place with frequent meteor showers.
The show's title is a reference to both the Cowboy lifestyle of the American Wild West, and Bebop, an American jazz movement from the early to mid 20th century. As such, many elements of the show are influenced by the Old West, such as the bounty system of allowing civilians to make a living off capturing criminals, and the show's music has strong jazz influences.
In addition to the 26 episode anime series, the Cowboy Bebop franchise consists of a feature-length animated film, Knockin' on Heaven's Door, two mangas, and a live-action feature length film that is currently being made.
This anime primarily contains procedural drama, in which the plot is introduced and resolved during the same episode. Many episodes revolve around a particular bounty head the Bebop crew connect to in some way. For example, in Session 23 Brain Scratch the crew actively try to capture a known criminal for only that episode.
Story arcs are also formed and overlain throughout the series. Spike Spiegel, Jet Black, and Faye Valentine all encounter people from their own mysterious pasts. Several episodes focus on one main character and their personal issues. For example, in Session 24 Hard Luck Woman Faye goes in search of her childhood instead of a bounty.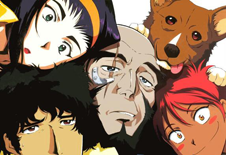 Main Characters
Edit
Main article: Character List
The series features a cast of main characters that emulate both a dysfunctional family and a competitive workplace. The first Session opens with just Spike Spiegel and Jet Black as a bounty hunter team. In later Sessions they reluctantly allow Ein, Edward and Faye to live on their converted fishing vessel, the Bebop.
Spike Spiegel is an ex-Syndicate goon and a bounty hunter aboard the Bebop. He is proficient in martial arts, zipcraft flying, and gunfights, but he also has comical and aloof sides of his personality. If there's three things he can't stand, its kids, pets, and women with attitudes, and he's got all three on the Bebop.
Jet Black is an ex-ISSP Special Forces Officer and the Captain of the Bebop. He is a bounty hunter and is called the "Black Dog" because once he sinks his teeth in he never lets go. Jet enjoys American Jazz music, taking care of Bonsai trees, and has a knack for investigative work.
Faye Valentine is a coma survivor of over 50 years and she is trying to regain her memory. She got into a lot of debt upon entering this futuristic world, and she had to resort to a life of crime and hustling to survive..that is, until she decided to live on the Bebop and become a bounty hunter.
Edward is a net diver from Earth. Edward is a child prodigy for hacking and has an aptitude for anything mechanical, even though Edward has some eccentricities in other parts of her personality. For instance, Edward speaks in third person and sometimes behaves like a wild animal. That's just Edward being Edward.
Ein is a data dog, which is to say a very intelligent dog. He was enhanced in an illegal research facility but now spends most of his days relaxing on the Bebop. While not being an official bounty hunter, he does occasionally assist the crew in their cases.
Vicious is Spike's rival. He is a member of the Red Dragon Crime Syndicate and prefers to use a sword instead of a gun. He leads a coup against his Capo, Mao Yenrai, in order to take his place as the new crime boss. Vicious is just like his name, darker and more sadistic than Spike.
Julia: Spike's former love interest. She was involved in the Red Dragon Crime Syndicate and was in a love triangle with Spike and Vicious.
Production
Edit
Director: Shinichirō Watanabe
Management: Noriko Kobayashi, Tetsuo Yamazaki
Planning: Sunrise
Original Concept: Hajime Yatate
Series Composition: Keiko Nobumoto
Character Design: Toshihiro Kawamoto
Mechanical Design: Kimitoshi Yamane
Set Design: Isamu Imakake
Art Director: Junichi Higashi
Color Coordinator: Shihoko Nakayama
Director of Photography: Yoichi Ōgami
Sound Director: Katsuyoshi Kobayashi
Music: Yoko Kanno
Music Production: Victor Entertainment
Music Producer: Toshiaki Ōta
Music Director: Shirō Sasaki, Yukako Inoue
Cultural settings: Satoshi Toba
Stage Settings: Shōji Kawamori, Dai Satō
Producers: Masahiko Minami, Kazuhiko Ikeguchi
Production: Sunrise, Bandai Visual
Distribution
Edit
In the United States, on September 2, 2001, Cowboy Bebop became the first anime title to be shown as part of the U.S. Cartoon Network's Adult Swim programming block.[1] It was successful enough to be broadcast repeatedly for four years. It was rerun again in 2007, 2008, and the first part of 2009.
In the United Kingdom, Cowboy Bebop was first broadcast in 2002 as one of the highlights of the ill-fated "cartoon network for adults", CNX. As of November 6, 2007, it is being repeated on AnimeCentral.
In Australia, Cowboy Bebop was first broadcast in 2002 on Cartoon Network's Adult Swim, and began broadcasting on ABC2, a digital free-to-air network, on January 2, 2007. It has recently started broadcasting on the Sci Fi Channel on Foxtel. Cowboy Bebop: The Movie also aired again on February 23, 2009, on SBS.
In France, Cowboy Bebop was broadcast during summer 2000 on Canal+.
In Germany, Cowboy Bebop was broadcast during 2003-2004 on MTV.
In Poland, Cowboy Bebop was broadcast several times by Hyper and TVP Kultura.
In Israel, Cowboy Bebop was broadcast during 2001-2002 on Bip's late-night anime block.
In Spain, Cowboy Bebop was broadcast during 1999 on Cartoon Network in the first Toonami programming block, during the early 2000s on K3's 3XL.net, and during summer 2006 on Cuatro's late-night show Cuatrosfera.
In Canada, Cowboy Bebop was first broadcast on December 24, 2006, on Razer.
In Italy, Cowboy Bebop was broadcast after November 1999 on MTV and again in 2007.
In Singapore, Cowboy Bebop was broadcast on Arts Central at the 11 pm time slot, and had several scenes cut for violence and other graphic content.
In Portugal, Cowboy Bebop was broadcast on SIC Radical in 2001, 2007, and 2008.
In The Netherlands, the first five episodes of Cowboy Bebop were broadcast by TMF in 2005.
In Latin America, Cowboy Bebop was broadcast in 2001 on Locomotion.
In The Philippines, Cowboy Bebop was first broadcast in 2004 on GMA Network. It was recently shown on TV5.
In India, Cowboy Bebop was broadcast several times since 2006 on Animax.
Other Media
Edit
Manga: The two Cowboy Bebop manga series were adapted from the television show using the original cast of Spike Spiegel, Jet Black, Faye Valentine, Edward and Ein, in original adventures.
The mangas were released by the Japanese publisher Kadokawa Shoten within their magazine Asuka Fantasy DX. The magazine was targeted to Shōjo, females ages 10 to 18, and fans of Science Fiction.
The first volume of Cowboy Bebop: Shooting Star was released May 1998, just one month after Cowboy Bebop originally aired on TV Tokyo on April 3, 1998.

Video Games: There are 2 Cowboy Bebop games. For information, see these Wikipedia sites:

Live Action Film
For information on the upcoming live action film, see: Cowboy Bebop: Live Action Film.
For information on the 2001 animated film directed by Shinichirō Watanabe, see: Cowboy Bebop: Knockin' on Heaven's Door.
20th Century Fox has officially announced plans to adapt Cowboy Bebop into a live action feature film. This project is still in its very early stages with a tentative release of 2011.
Many of the series original creators are being brought in as Associate Producers or Consultants. Peter Craig is writing a screenplay and Keanu Reeves is billed to star as Spike Spiegel.
Reception
Edit
Japan Cowboy Bebop almost did not appear on Japanese broadcast television due to its depictions of gratuitous violence. It was first sent to TV Tokyo, one of the main broadcasters of anime in Japan. The show had an aborted first run from April 3, 1998, until June 19, 1998, on TV Tokyo, broadcasting only episodes 2, 3, 7 to 15, and 18.
Later that year, the series was shown in its entirety from October 24, 1998, until April 24, 1999, on the satellite network WOWOW. Because of the TV Tokyo broadcast slot fiasco, the production schedule was disrupted to the extent that the last episode was delivered to WOWOW on the day of its broadcast. Cowboy Bebop won the Seiun Award in 2000.
The full series has also been broadcast across Japan by the anime television network Animax, which has also aired the series via its respective networks across Southeast Asia, South Asia and East Asia. Cowboy Bebop was popular enough that the movie, Cowboy Bebop: Tengoku no Tobira (Knockin' on Heaven's Door), was commissioned and released in Japan in 2001, and later released in the United States as Cowboy Bebop: The Movie in 2003.

Legacy A poll in the Japanese magazine Newtype asked its readers to rank the "Top 25 Anime Titles of All Time"; Cowboy Bebop placed second (behind Neon Genesis Evangelion) on a list that included such anime as Mobile Suit Gundam.[2] In a recent poll by TV Asahi, Cowboy Bebop was 40th for Japan's Favorite Anime of 2006.[3] The American Anime magazine Anime Insider (No. 50, November 2007) ranked the 50 best anime (available in America) by compiling lists of industry regulars and magazine staff, with Cowboy Bebop ranked as #1.
In the U.S., Cartoon Network has regularly rotated Cowboy Bebop in and out of its Adult Swim block line-up.
T.H.E.M Anime Reviews said the series has "sophistication and subtlety that is practically one-of-a-kind" and that "puts most anime...and Hollywood, to shame."[4]
In March 2009, the print and web editions of The Onion's A.V. Club called Cowboy Bebop "rightly a huge hit", and listed it as a gateway series to understanding the medium of anime as a whole.[5]
Soundtracks
Edit
Main article: The Seatbelts
One of the most notable elements of Cowboy Bebop is its music. Performed by Yoko Kanno and The Seatbelts, a band Kanno assembled to perform music for the series, the jazz and blues themed soundtrack helps to define the show as much as the characters, writing, and animation. Cowboy Bebop was voted by IGN in 2006 as having the greatest soundtrack for an anime.[6]
References
Edit