Home
Talk

5
162pages on
this wiki
Contents
| | | | | |
| --- | --- | --- | --- | --- |
| Intro | Sessions | People | The Universe | Features |
Helping out
To write a new article, just enter the title in the box below
You can help out by writing a Wanted Article or filling out a Stub
Featured Article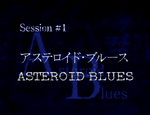 Asteroid Blues is the first Session in the Cowboy Bebop anime series.
The Bebop is traveling through hyperspace near Mars. Jet has cooked his specialty, bell peppers and beef, while Spike finishes martial arts practice and comments that dinner can't be called bell peppers and beef since there is no beef. Knowing they are broke, Jet decides they should pursue a bounty placed on a gang member named Asimov Solensan on the asteroid, Tijuana (called TJ). Spike complains that he doesn't go after "small fries", judging by Asimov's crime and bounty price, but Jet convinces him they need this bounty by reminding Spike that the "carnitas (on Tijuana) are out of this world!"
(more...)
---
Featured Image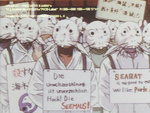 The Space Warriors, an eco-terrorist organization, protest the harvesting and consumption of the Ganymede Sea Rat. Their signs are written in English, Japanese and German.
---
Big Shot News
---


Entertainment Wiki's Top Ten Anime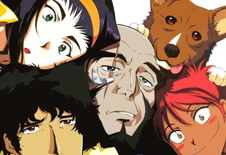 Quote of the Week
No quote of the week! Submit one below.
Did You Know...?
Add Fact
...that Edward was originally written as a boy character?
...that several Session titles are taken from actual songs?
To see different facts, click More Facts.
Poll of the Month
Who has the best nickname?
Community Links
Internal
External