This page is not finished.

This page is under construction. Please contribute in helping this page.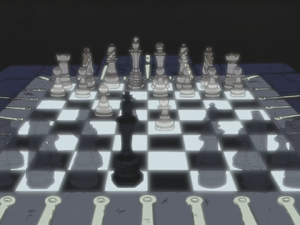 "This is either an idiot or a genius!"
―Chessmaster Hex, while playing against Ed.
E-Chess or "Outernet Chess" is an interactive virtual version of standard Chess, played on a holographic board. Two players connect remotely over the outernet and manipulate the board by pressing on board squares to move pieces.
Ad blocker interference detected!
Wikia is a free-to-use site that makes money from advertising. We have a modified experience for viewers using ad blockers

Wikia is not accessible if you've made further modifications. Remove the custom ad blocker rule(s) and the page will load as expected.