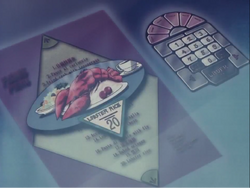 Food is food. You eat it.
Bell Peppers and Beef
Edit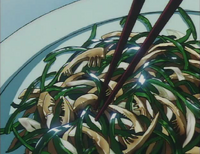 Bell peppers and beef is a staple meal across the Sol System and popular among the crew of the Bebop. The meal may be prepared with or without beef and is still known as Bell Peppers and Beef.
Recipe:
4 Bell peppers, 2 tbsp Olive oil, 1 lb Lean ground beef or whole beef cut into strips (optional), 1 tsp Butter, 1 Onion, 2 Cloves garlic (minced), 1 beef bouillon cube, Soy and Teriyaki Sauce, 1 cup Cooked white rice (optional), 1 cup shiitake mushrooms, Seasoning: Salt, pepper and paprika, Boiling water
Prep Time : 5 Min
Cook Time : 5 Min
Method: Chop onion and bell pepper into thin strips. Chop onion into strips and shiitake mushrooms into quarters. Peel the garlic and cut off the cap. Pour the olive oil into a pan/wok and stir-fry onion, bell pepper, mushrooms and garlic with the butter for about 5 minutes or less. Add ground beef (optional) and fry till cooked to taste. Take bouillon cube and crumble over the mixture, along with the soy and teriyaki sauce. Season with salt, pepper, paprika and boiling water and stir until well blended. Place mixture in bowl/on plate and serve it with corn (optional) or rice (optional).
Serves 4
Ganymede Rock Lobster
Edit
Presumably a crustacean found in the oceans of Ganymede. Not much is known about the Ganymede Rock Lobster, other than it is a prized dish that spoils if left in cold storage for a year or more.
Ganymede Sea Rat
Edit
Ganymede Sea Rat is an endangered species of mammal that lives on Jupiter's moon of Ganymede. A dish made from this animal became a staple food for local fisherman during the early years of terraforming the moon. A wider selection of foods became available when Ganymede developed stronger trade routes and infrastructure, and the Sea Rat fell from popularity. It is likely that, more than anything, people stopped eating the Ganymede Sea Rat because it was "totally disgusting". A recent attempt has been made to market the Ganymede Sea Rat as a culinary delicacy. As a result, eco-terrorist organizations, like the Space Warriors, have protested against harvesting the animal on the endangered species list.
Mushrooms
Edit
Mushrooms are certain species of fungi that are sometimes edible. In Mushroom Samba, the Bebop crew encounters different kinds of mushrooms, including shiitake (formerly native to East Asia) and a certain psychoactive variant that induces hallucinations if ingested. The latter are illegal and trafficked as drugs by dealers.