Hard Luck Woman
Talk

0
165pages on
this wiki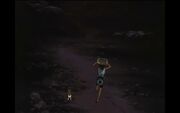 The episode opens with the
Bebop
traveling through hyperspace, as
Faye
watches her old Betamax tape, reminiscing on what memories she can still recall and searching for clues on where she can find more relics from her past. Her gaze is interrupted by
Edward
, who is revealed to have been watching all along. Faye asks if Ed knows anything about the locations on the video, but Ed falls asleep before she can reveal any information.
The Bebop and company find themselves on Earth, much to the chagrin of Jet, who once again is being pestered by Ein. Ed says she has seen the landmarks in the video so she and Faye take the Red Tail (with Faye at the wheel and Ed "secured" to the top of the ship) and leave. Spike and Jet are justifiably angry, as their bountyhead was getting away from them.
Meanwhile, a rover-type vehicle bounds through the massive craters on the surface. Two men, one of them a skinny man with glasses and a pink shirt, and the other a sizable, brown-haired man with an orange shirt and white vest, exit the rover and discuss what they are seeing. The skinny man's name is MacIntire...but don't count on the other man to remember that.
Later, Ed is noticed by someone who calls her by name. Ed seems to recognize the voice, and Faye is intrigued by the fact that someone recognizes the young hacker. They soon find themselves surrounded by young children, and are taken to Ed's old orphanage. Ed reveals that this was part of her plan, and when Faye asks why, she informs Faye that she just wanted to return because the food was good. The Nun reveals that there is a surprise for Ed, and she reacts in her usual hyper, eccentric manner. The surprise turns out to be a holographic image of her father, who turns out to be none other than the orange-shirted man who was seen stepping out of the rover. The nun informs Ed that her father came by recently looking for her. Though the nun offers shelter, Faye chooses to leave to search for more clues of her past life.
Ed's father and MacIntire deploy a satellite dish and look upon a screen which shows a map of the craters formed by the constant meteor bombardment.
Faye returns to a landmark that seemed familiar to her, and as Ed mindlessly throws rocks into the water, Faye meets a friend she knew in high school named Sally Young. As several decades have passed since those days, Sally is visibly aged and in a wheelchair, but Sally nonetheless recognizes Faye and calls her by name. Faye has a flashback, remembering Sally as she used to be, as well as a bit of the space shuttle accident. The woman hunches over in a coughing fit, but comes to, remarking that she thought Faye was a ghost, but remembers that they put Faye into cryostasis after the accident. Faye pauses for a moment as Sally's granddaughter runs to catch up with her. Sally begins to introduce Faye to her granddaughter, before Faye remarks that she IS a ghost, and departs for the Bebop with Ed in tow. Sally and her granddaughter watch incredulously as the two disappear.
Upon their return, Jet immediately confronts Faye about the sudden course change. Faye simply gives Jet a sad look, at which Jet is taken aback. Meanwhile, Ed works at her computer as Ein approaches her, whimpering. Ed excitedly asks Ein if he wants to smell something, and Ein barks once in reply as she shows him the hologram of her father.
Jet and Spike briefly contemplated why Faye and Ed seemed so secretive. Jet guesses that it's insanity from hunger, but Spike has lost interest, as a new bountyhead has appeared on their screen. The target: Appledelhi Siniz Hesap Lutfen. He appears to have a 50 million Woolong bounty on his head for robbing a bank. The face is easily recognizable, as he is none other than Ed's father. At that very moment, Mr. Appledelhi is eating an egg, while forgetting his assistant's name once again. MacIntire tries to get Appledelhi to put more focus on remembering his name, but another meteor crashes nearby. Appledelhi urges MacIn...whatever to hurry into the rover and they race off to another crash site.
As Faye stands in the shower, she recalls her old life more vividly. It seems that she was pretty well off, happy and rich...until the space shuttle she was riding in begins to come apart in orbit. She snaps back to reality and rushes out of the shower in her robe with her hair down, looking much like she did in her old video. She bumps into Spike and apologizes, shocking him with this sudden show of humanity. Faye tries to think of something to say, but runs to the Red Tail with a bag. She is once again surprised by Ed, who (while hanging upside down on the ship) asks where Faye is going. Faye tells Ed that she has finally figured out where she belongs. Faye remarks that Ed has someone waiting for her too, and that she should go find him, as "belonging is the very best thing there is." Ed contemplates Faye's words as the Red Tail flies away.
After talking for a few moments about Faye's repeated excursion, Spike and Jet confront Appledelhi. He explains that he and his assistant are traveling Earth, making maps of the changed terrain. The bounty hunters listen for a moment, but eventually decide to ignore everything they've heard and strongly insist that Appledelhi come with them. He responds by throwing eggs, gumming up their pistols. Spike seems to fly off the handle, charging at Appledelhi. The giant man is unaffected by Spike's attacks, and though Spike manages to land a few hits, Spike is knocked to the ground with ease. The fight continues, however, Jet looks on in horror as the Bebop comes crashing ashore. Spike jumps out of the way as Appledelhi watches calmly, the ship coming to a stop mere inches from him. He looks up to see Ed with her remote control, smiles, and calls to her (Francoise!). Ed smiles and (literally) dives into his arms, and he tosses her into the air excitedly as she giggles and yells for him to throw her higher. Spike and Jet look on in disbelief as Ed introduces "the Father-person." After Ed introduces "Spike-person and Jet-person" (and Appledelhi knocks Spike to the ground with a heavy headbutt), he thanks the two for looking out for his son...or was that his daughter? He sets the basket of eggs onto Spike's chest in gratitude. Jet suspects that Ed put the bounty in the computer and takes a look at it again. He discovers that the "bounty" was 50.000 000 Woolongs...barely enough to buy a pack of gum. Appledelhi offers Ed the chance to come with him, but before she can answer another massive meteor crashes nearby. Appledelhi and Mclty (it's MacIntire!) rush off again, leaving a slightly distraught Ed and the very confused bounty hunters in the dust.
Faye brings her ship to the ground and disembarks. She has a flashback as she walks of herself as a young girl, running towards her home. Faye does as she did many decades ago and runs up the ruined path, eager to see what is left of her home. As the flashback comes to an end with the property gates opening, Faye looks on in awe at the foundation of her former home...all that is left of it.
As Spike sat on the couch looking at the now-empty egg basket, Ed looks over his shoulder with a smile on her face. She hands him her pinwheel, and as she tumbles over the couch, Spike looks at her pinwheel pensively, wondering what the meaning of it is.  It's later revealed in the episode guide made by "Tokyo Pop" that the children at the orphanage were taught to leave the pinwheels to mark places that they have visited.  This being her home for sometime, Edward marks her sad departure in the best way she knows how.
Elsewhere, as Jet is preparing the eggs, Ein rises from his rest, shooting one last look at Jet before he too disappears from the screen.
Ed is shown slinking away with the sunset in the background, her computer resting on her head as she walks.
Ein walks away from the Bebop, looking back at the ship that had been his home for a while. He soon turns again, barking as he dashes away from the ship after Ed.
Jet announces to the empty commons area that dinner is ready. He is surprised to find no one there, and repeats himself to Spike just to make sure that he heard him. Spike stands by the window smoking his cigarette, and Jet comes to see what Spike is looking at. On the landing deck, the words "Bye Bye", along with Ed's signature hacking smiley, are drawn in orange.
At the remains of her home, Faye draws a box in the dirt with a stick. As though it were her bed, she lays down and looks at the sky. The look on her face reflects that she wonders what to do, as she has nowhere left to go.
Spike and Jet finally eat from their plates, as well as from those prepared for Ed and Faye. They eat silently together, and their faces and actions convey a subtle rage mixed with feigned indifference. It is unclear if they are more angry that food will be going to waste or if they are unsure of how to react to the loss of Faye, Edward and Ein. Neither Spike nor Jet would ever admit to feeling sad over losing their former crew members, but they seem to have strong emotions about it.
Ein finally catches up with Ed, barking and whimpering for Ed not to leave without him. Ed tells Ein that she is going some place far away, and that Ein should go back to the ship. She has a change of heart, though, asking Ein if he would like to come with her. Ein barks excitedly, and they run off into the sunset as meteors flash overhead. One last look at the Bebop reveals that Ed's pinwheel is taped to the ship's upper deck, spinning slowly as the light disappears.
"See you cowgirl, someday, somewhere!"
Memorable Quotes
Edit
Main article: Memorable Quotes from Cowboy Bebop#Hard Luck Woman
---
Songs Used
Edit
Papa Plastic
Call me call me yoko kanno & Steve Conte
Wo Qui Non Coin
Series Connections
Edit
Real World References
Edit
Hard Luck Woman is a 1976 lead single by American hard rock band KISS from their album Rock and Roll Over.
Walking on the Moon, the title of a book Spike is seen reading, shares it's name with the 1979 hit single by the English new wave band The Police.
It is also the title of a romantic science fiction book by Susan Sizemore.
Merlion is a mythical creature with the head of a lion and the body of a fish, and is a national symbol of Singapore. The landmark Faye recognizes resembles that of the merlion statue found in Singapore.